President Obama Booed For Not Kissing First Lady At USA-Brazil Basketball Game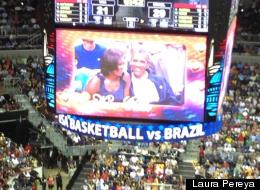 WASHINGTON -- President Barack Obama arrived courtside Monday night to loud cheers and Bruce Springsteen's "Born in the USA" as he took his seat to watch an exhibition basketball game between the Brazilian and U.S. men's national teams.
Obama was accompanied by Vice President Joe Biden and former White House aide Reggie Love at the Verizon Center in the nation's capital, according to White House pool reports. Some audience members later spotted another member of the presidential party.
"At USA-Brazil basketball, @Barack Obama & @MichelleObama were just on big screen kisscam but no kiss," CNN anchor Wolf Blitzer
tweeted
.
A pool report confirmed that the presidential spectator "smiled," but "didn't kiss" Michelle Obama when the couple were caught on the arena's giant Kiss Cam screens. The crowd booed in response.
The president, sporting a dark blue Under Armour zip-up, greeted American women's national team members after they
defeated
Brazil 99-67 earlier in the evening. Michelle Obama wore a navy blue sleeveless dress.
"Work up a sweat, ladies?" Obama asked before reminding the players that the U.S. "could not prouder" of their athletic achievements.
During a halftime interview on ESPN 2, Obama said "there's no reason" the U.S. should not "bring home the gold" at the Summer Olympics in London later this month.
UPDATE: 10:32 p.m. --
The president was given a second shot on the Kiss Cam in the fourth quarter. This time, he and the first lady did smooch, as captured in a
shot
by CNN's Wolf Blitzer:
According to the pool report, the crowd cheered and shouted, "Four more years!"
The pool reporter had already been ushered outside, back to the motorcade, before the fourth quarter. However, she was brought back in -- perhaps not coincidentally -- in time to witness the kiss.
Amanda Terkel contributed reporting.